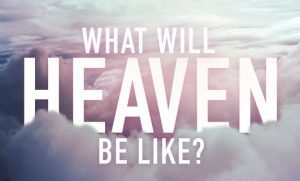 "In My Father's house are many dwelling places; if it were not so, I would have told you; for I GO TO PREPARE A PLACE FOR YOU." (John 14:2)
Heaven will be a place of glorious life that will never end. Joy inexpressible, limitless peace, pure love, beauty beyond description—that's what heaven is. Utmost of all will be the presence of God the Father, God the Son, and God the Holy Spirit, with whom we will enjoy fellowship forever.
"We will hunger no longer, or thirst anymore; or will the sun beat down on us, or any heat; for the Lamb in the center of the throne will be our shepherd and will guide us to springs of the water of life; and God will wipe every tear from our eyes." (Rev. 7:16-17) Everything we will ever need will be ours, forever…
"We have the Holy Spirit as the promise of future blessing. But we also groan inside ourselves as we look forward to the time when God will adopt us as full members of his family. THEN HE WILL GIVE US EVERYTHING HE HAS FOR US. HE WILL RAISE OUR BODIES AND GIVEGLORY TO THEM." (Rom. 8:22-23)
♫Won't it be wonderful there
Having no burdens to bear
Joyously singing, with heartbells all ringing
Won't it be wonderful there?
-Bill Stockham