Reflections of the Past Year 2017
Reflections of the Past Year 2017
January 11, 2018

Woodroe Thompson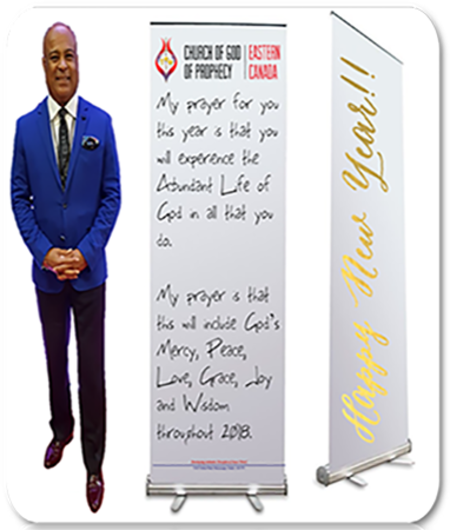 The New Year of 2018 has arrived; along with it, we have great anticipations and expectations for the months, weeks and days ahead. A famous dictum uttered by Socrates states: "An unexamined life is not worth living." This New Year is a good time to examine our lives, and to reflect on the past as we anticipate the future with new goals, great aspirations, and a fresh hope.
The past year of 2017 was filled with many great blessings, while at the same time it presented some very unsettling and difficult challenges. Every year events transpire that forever change the world, and in 2017 it is actually difficult to emphasize how impactful the year has been, not only on the world stage, but just on humanity as a whole.
This was the first year of Donald Trump's Presidency, which was marked by high tensions as the country and the world reacted to a new man in the Oval Office. The October shooting at a Las Vegas music festival was the deadliest mass shooting by an individual in the US in which 58 died. The small town of Sutherland Springs, Texas was rocked when 25 people were killed in a Church shooting. There were: High profile protests by NFL players against racial inequality; Accusations of sexual harassment and the #MeToo movement; and Natural disasters plagued communities around the world. In Canada, it was a year marked by such highs as our 150th birthday celebrations, a new Governor General, and Prince Harry and Megan Markle's first public outing as a couple in Toronto. Some lows include historic flood in Quebec, the worst wildfire season in B.C.'s history, a terror attack in Edmonton and the death of a musical icon, Gordon Downie. Closer to home in the COGOP Movement in Eastern Canada, we were devastated by the deaths of several of our Pastors and Leaders, not to mention an accident in which my wife and I were involved, that could have easily ended our lives.
As I reflect on 2017, it could be easy for me to become fearful, dreading what this New Year 2018 will bring.
However, Scripture reminds me that our Times are in God's hand. The bible is replete with words of encouragement as we face the New Year of the unknown.
"The steadfast love of the Lord never ceases, His mercies never come to an end; they are new every morning, great is your faithfulness." (Lam 3: 22-23)
"Be strong and be of good courage, do not be afraid, nor be dismayed, for the Lord is with you wherever you go." (Joshua 1: 9)
As we face this New Year with all of its uncertainties, let us resolve a few things:
1. That we will be content in God's provision (1 Tim. 6: 6-8)
2. That we will remain assured of the companionship of His Presence (Duet. 31: 6)
3. Let us take confidence in His Promises (Eph. 3: 20)
4. Let us walk in the comfort of His Protection (Ps. 138: 7)
One of the best ways to solidify these things in our lives as we begin this New Year and to face the future is with the disciplines of Prayer and Fasting. The Church of God of Prophecy has designated January 7- 27, 2018 as a season of prayer seeking God to "Open The Heavens."
As a global movement, we will spend 21 days seeking the face of God. I would like to challenge you to take your congregation on this exciting journey as we seek God to "Open The Heavens."
My prayer for you this year is that you will experience the Abundant Life of God in all that you do. My prayer is that this will include God's Mercy, Peace, Love, Grace, Joy and Wisdom throughout 2018. Have a Joyful Year!
Reminders:
- January 21, 2018 "Together in Prayer"
(Eastern Canada corporate prayer for everyone)
- January 21, 2018 Designated as Assembly expense ingathering
as passed in 2016 Assembly
- January 27, 2018 Leadership Conference at Living Arts Centre
- February 24, 2018 Ontario Pastoral Symposium
- March 3, 2018 Next Level Worship Series
(for all worship teams, musicians etc.)